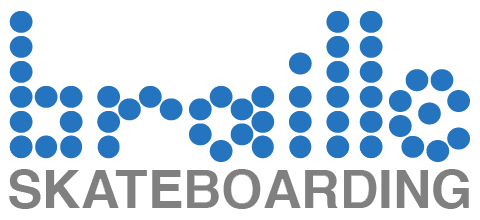 The concept and name "Braille" is a play on words and comes from the expression "I'm feeling it!" Skateboarding is always the best and most fun when you are skating your best and in other words… "Feeling It" hence the name and the overall feel and purpose of the company.
I started brailleskateboarding.com in 2007 when I first saw friends of mine and people in the industry working really hard to make awesome skateboard videos and then having a hard time marketing and selling the videos through local shops and on the internet. I wanted to create a way for them to be able to sell an unlimited amount of videos without having to deal with expensive DVD reproduction and ground mail distribution. So brailleskateboarding.com started offering some of the first ever Skateboard digital video downloads for ipods, computers, and other devices at the time. I began working together with Skateboard video makers to provide their projects to as many different people as possible. This was and is the original purpose and mission statement of brailleskateboarding.com.
Over the several years between 2007 and now, many changes have taken place. At one point I lost the domain brailleskateboarding.com to an online spammer who bought the domain name from under me upon a renewal process in which I didn't pay for the name renewal in time. Since I no longer owned the domain, I gave up on the Digital Video Distribution side of things and began AcademyofSkateboarding.com to help kids learn how to skateboard and provide skateboard lessons in my local area.
Several months later the online spammer did not renew brailleskateboarding.com and so I jumped on the opportunity and bought it back from underneath him and began creating brailleskateboarding.com again. I stopped Academy of Skateboarding and just combined the two sites into Braille, including all of my online videos on the Braille site. By creating the Braille Skate University I am bringing back that Academy concept and provide thousands of people with access to lessons on skateboarding, video filming, editing, how to start a YouTube channel and much more.
I then started my own YouTube channel which has steadily grown to over 2.5 million subscribers with over 40 million monthly views. The purpose of the company has evolved with a mission to push skateboarding all over the world. We do this through teaching people how to skateboard and supporting beginner and amateur skaters to get their work featured and recognized.
I wanted to give you a brief history of Braille, answer any questions that you have, and let you know that I am a long time skateboarder and am here to provide the best skateboarding content and instruction to skateboarders around the world.